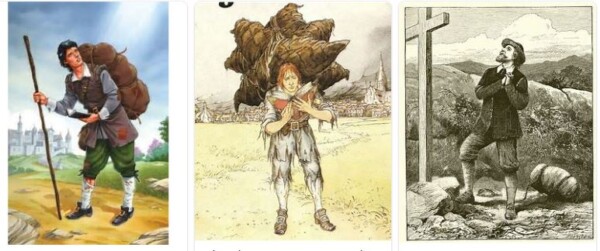 What will the new year hold? One thing is for sure – it will be different than the past year. I don't know about you, but I'd like to travel lighter this coming year.
Let's stipulate that 2022 delivered dispiriting events on the national and world scene. If those burdens weren't enough, you have your own freight to carry. Life can make you feel deserted, hurt, lonely, or hopeless. Your burdens intensify if you have marginalized the God of the universe. Life's burdens are evidence for this piece of theology: This is a fallen world, enslaved to corruption (Rom. 8:21). The good news is that you can travel lighter.
That's what Tennyson expressed with these verses: "Ring out the old, ring in the new. Ring, happy bells, across the snow; the year is going, let him go. Ring out the false, ring in the true. Ring out false pride in place and blood, the civic slander and the spite. Ring in the love of truth and right. Ring in the common love of good." These sentiments from 1850 express the cry of our hearts today.
People who travel heavy with burdens rightly yearn for the new, the good, the true. It's true that that life is less about what happens and more about how you react to it. You can manage the burdens you carry. To that end I offer three truths, actually blessings, which will help you travel lighter in the new year.
You are valuable to God.

He made you in His image and renews you by faith in Christ Jesus. It is, as C. S. Lewis wrote, "almost incredible and only possible by the work of Christ, that any of us who really chooses, shall find approval, shall please God. (You are) loved by God…delighted in as an artist delights in his work"! If God is for you, who can be against you (Rom. 8:31)?

Your life has meaning.

Having a central organizing purpose for life is your reason to stand strong. The highest and most sublime purpose is not to possess things, but to know God. "I count all things as loss," Paul wrote, "in view of the surpassing value of knowing Christ" (Phil. 3:8). To know God is to have everything.

You are created for community.

Poet John Donne tells us "no man is an island." There's a reason the Bible emphasizes loving your neighbor. Shared burdens are lighter. With whom are you living life? Are you sharing the journey with other travelers?
Prepare for the new year by embracing what's right and true. Lighten your burden by receiving these blessings from God. As Isaac Watts wrote, "No more let sins and sorrows grow, nor thorns infest the ground. He comes to make His blessings flow far as the curse is found."
https://mountainchristian.net/wp-content/uploads/2022/12/712.jpg
251
600
Wayne Fowler
https://mountainchristian.net/wp-content/uploads/2015/10/logo-white.png
Wayne Fowler
2022-12-25 12:00:19
2022-12-31 12:02:15
A Lighter Burden