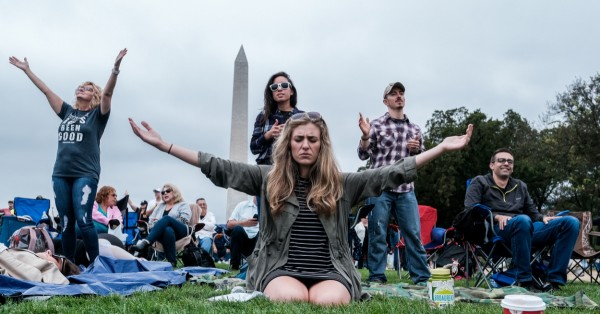 People put their lamp on a high lampstand last month by gathering in Washington DC for "The Return."  The purpose of the event was to call for individual soul-searching and pray for a return to God.
What a counter-cultural thing to do.  This cultural moment has no time for a God who interferes with our personal preferences or the majority rule of America's democracy.  We live in an age in which a federal judge who has impeccable credentials in academia and on the bench is called a "(unprintable) nut," according to a late-night TV personality.  Why?  Because the judge's life and practice are informed by her faith in God.  No matter that most of the Supreme Court justices claim the same faith.  The problem is that "the dogma lives loudly within you," a criticism leveled by a U.S. Senator.  Apparently, faith is OK as long as it dies quietly under a basket.
The dogma does live loudly in believers, informing our treatment of people and our conduct at work.  "Do your work heartily, as for the Lord" (Col. 3:23). This has particular meaning for a judge who must be about justice, mercy, and equity, values near to the heart of God.  That used to be OK.  America was once united around the ideas of liberty, virtue, and faith.  Even our non-believing founding fathers understood that the Judeo-Christian ethic was a central organizing principle.  Without a common understanding of virtue, liberty is not sustainable.
Look, this is not about the politics of the moment.  My point is to encourage believers to live with courage and with the light of Christ.  He said, "Nor does anyone light a lamp and put it under a basket, but on the lampstand" (Matt. 5:15).  America has historically been welcoming to people of all faiths or no faith, so live as though that's still true.  As we live the ethics of Christ Jesus, loving our neighbor, providing for the infirm and needy, working for the public good, then God is glorified and our nation blessed.  We want our non-believing neighbors to know that we want God's best for them in a nation "under God, indivisible, with liberty and justice for all."
That doesn't mean you won't endure insults on behalf of Christ.  "But even if you should suffer for the sake of righteousness, you are blessed. And do not fear their intimidation, and do not be troubled, but sanctify Christ as Lord in your hearts, always being ready to make a defense to everyone who asks you to give an account for the hope that is in you, yet with gentleness and reverence; and keep a good conscience so that in the thing in which you are slandered, those who revile your good behavior in Christ will be put to shame" (1 Pet. 3:14-16).
So get rid of the basket.  Use the lampstand.
https://mountainchristian.net/wp-content/uploads/2020/10/basket-or-lampstand.jpg
314
600
Wayne Fowler
https://mountainchristian.net/wp-content/uploads/2015/10/logo-white.png
Wayne Fowler
2020-10-04 12:00:21
2020-10-04 18:28:57
Basket or Lampstand