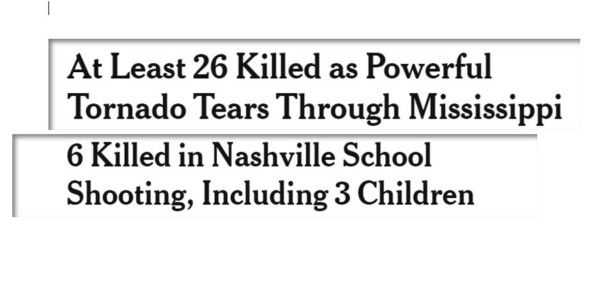 I see the headlines and I wonder how the survivors will cope. Families lost more than 20 loved ones in the Mississippi tornado. More lost their homes. Some lost their whole town. The Nashville school shooting raises more intense questions. Do you wonder if you would find the strength to go on if your child was a victim of such evil?
That question is larger than this short essay. But I'll say this. The Christian faith offers hope in the face of adversity. The worldview of naturalism offers no hope if, as Richard Dawkins said, the universe has "no evil, no good, nothing but blind pitiless indifference." Whatever happens is just random, hopeless chaos.
You build a foundation for endurance when you accept that this is a fallen world, infected by evil. "When you encounter various trials…" the Bible says, not "if." Trials in life are inevitable. But neither trials nor evil have the final say.
People who endure know their identity and values, which adversity cannot touch. As a believer, your identity and values are in Christ Jesus. Nothing can separate you from His love (Rom. 8:39).
You prepare for adversity by adopting a growth mindset. When you face adversity, expect that you will grow in wisdom and faith because of it. The testing of airplanes and pilots increases your trust in them. When you are tested beyond your strength, you learn even more to trust "in God who raises the dead" (2 Cor. 1:8-9).
Adversity in the believer's life brings about a certain reminder. Pain and grief exist in this life, but you are made for another world, one where Jesus has the final say. You can endure the pain better when you know it is short-lived.
"Consider it all joy, my brethren, when you encounter various trials, knowing that the testing of your faith produces endurance. And let endurance have its perfect result, so that you may be perfect and complete, lacking in nothing" (Jas. 1:2-4). I pray for those hurting families in Mississippi and Nashville, that God give them endurance and a more perfect result.
https://mountainchristian.net/wp-content/uploads/2023/04/727.jpg
290
600
Wayne Fowler
https://mountainchristian.net/wp-content/uploads/2015/10/logo-white.png
Wayne Fowler
2023-04-09 12:00:09
2023-04-19 15:10:54
Endurance