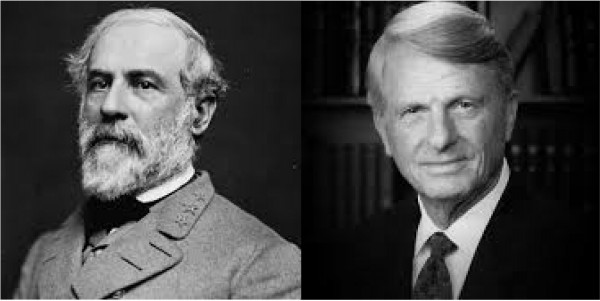 A statesman from Georgia and a Civil War general from Virginia shared something in common even though their time on this earth was separated by six decades. They finished strong.
Robert E. Lee said "I would rather die a thousand deaths" than meet with Ulysses S. Grant to surrender his army. Yet he did, and arguably preserved the lives of thousands in doing so.  During the five years he lived after Appomattox, he rejected calls for former Confederates to press an insurgency against the Union.  He signed an oath of allegiance to the U.S., and became president of Washington College in Lexington, Virginia.  He wrote, "I think it is the duty of every citizen, in the present condition of the country, to do all in his power to aid in the restoration of peace and harmony."
I read Charles Flood's book, "Lee the Last Years," while Zell Miller was Georgia's U.S. Senator. Like Lee, in his final years he put statesmanship above previous allegiances for the good of his fellow citizens.  In his iron-fisted speech at a political convention in 2004, he excoriated his own party's candidate for weakening our country's defenses.  After listing votes against various weapons, he thundered, "This is the man who wants to be commander in Chief of our U.S. Armed Forces?  Forces armed with what?  Spitballs?"  Fearless!
After Mr. Miller retired (again) I wrote to thank him for his service and mention my observation. He responded, "General Lee is one of my greatest heroes and to be even mentioned in the same letter is overwhelming."  I'm honored that he took the time.
The Christian faith has something to say about finishing strong. You may not be a general or a senator, but God has prepared something for you to do (Eph. 2:10).  In Christ, God gives you a purpose for a lifetime.  "There is nothing better for (people) than to rejoice and to do good in one's lifetime; moreover, that every man who eats and drinks sees good in all his labor – it is the gift of God." (Ecc. 3:12-13).
To hear and understand God's Word is to plant a seed in fruitful soil protected from the pathogens of affliction, worry, or wealth (Matt. 13). This truth has no expiration date: "It is God who is at work in you, both to will and to work for His good pleasure" (Phil. 2:13).  It is authentic faith that embraces Christ's work on the cross in the past, His work in you today, and His plans for your future.
Paul wrote in his last letter, "The time of my departure has come. I have fought the good fight, I have finished the course, I have kept the faith" (2 Tim. 4:6-7).  A lifetime of serving others, living purposefully, and trusting God is the life that finishes strong.
https://mountainchristian.net/wp-content/uploads/2018/04/Doc1.jpg
301
600
Wayne Fowler
https://mountainchristian.net/wp-content/uploads/2015/10/logo-white.png
Wayne Fowler
2018-04-08 12:00:24
2018-04-04 21:12:19
Finish Strong