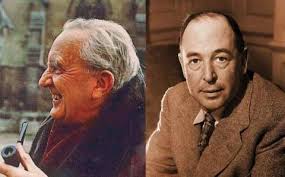 A discussion on mythology between two professors may not seem like a recipe for changing the literary world. Add a few more academics and you have The Inklings, which might have kept the world from experiencing J.R.R. Tolkien's The Lord of the Rings but for his friendship with C.S. Lewis.
The Inklings were Oxford dons, including the aforementioned pair and Hugo Dyson among others, meeting regularly to discuss their work and other topics. Dyson railed profanely about Tolkien's elves and refused to hear readings about them. But Lewis encouraged him to continue, and Tolkien cited Lewis for giving him perseverance for the monumental work. Perhaps this was turnabout, for years earlier, Tolkien's quiet logic had encouraged Lewis to abandon his atheism for the joy of Christian faith, without which we would never have met Aslan, the king who was not safe, but good (The Chronicles of Narnia). Actually Dyson also helped persuade Lewis about Christ, so this was a tale of sincere friends, shared lives.
It's too bad that you may not realize the value of friends until you need them. Sometimes the need is just to be heard, and assured that you aren't the unlikeable failure you quite imagine. You come to trust such friends, which is why disloyalty hurts (Ps. 41:9). But show me friends who have weathered storms of adversity between them, and I'll show you a stronger, more honest relationship. We're so quick to throw things away, including people. Don't.
The story of Job, perhaps the oldest book in the Bible, was about God dealing with a man who had friends who were well-intentioned but sometimes unhelpful. Here's to the friend who is wise enough to know when to shut up and listen! And consider carefully what comes out of his mouth next.
In today's culture coffee houses compete with pubs as a place "where everybody knows your name" (que 'Cheers' theme song!). They call out your delectable selection by name, a friendly touch. We just want to be known. We yearn for friends because an anonymous life is starved of the sustenance of relationship, of knowing and being known. Ultimately that yearning is fulfilled in relationship with God. Surprisingly, He has made himself available as a "friend who sticks closer than a brother" (Pr. 18:24). Jesus, God the Son, called his followers "friends" (Jn. 15:15). He lived life with them, served them, and lay down his life for them.
Friends Tolkien and Lewis might have changed the literary world by advancing mythology as a genre, but a far more profoundly world-changing event was God appearing in the flesh to reveal himself as a Friend, available to all comers. By faith Father Abraham became "God's Friend" (Is. 41:8). Are you?
https://mountainchristian.net/wp-content/uploads/2015/08/tolkienlewis.jpg
177
285
ALIGHT MEDIA
https://mountainchristian.net/wp-content/uploads/2015/10/logo-white.png
ALIGHT MEDIA
2015-08-25 12:00:43
2016-11-03 10:21:22
Friends