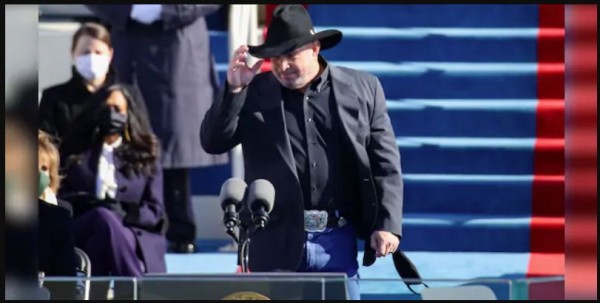 At the presidential inauguration, country music artist Garth Brooks offered truth.  It was as though "the fragrance of the knowledge of Him in every place" had been revealed (2 Cor. 2:14).
As a solo trumpet sounded the opening lines, Brooks removed his trademark cowboy hat.  He sang, "Amazing grace, how sweet the sound that saved a wretch like me."  The verse moves people.  Is it because we are lost and blind, and we sense it?  Is it because we need God's grace to save us from this long night of the soul?  John Newton penned those words from his dark experience as a slave trader, but his wickedness is no more wretched than yours, for all have sinned.
Brooks continued.  "When we've been there 10,000 years…we've no less days (as he lifts both hands skyward) to sing God's praise than when we first begun."  It is the most recognized Christian hymn in the world.  Its timeless and vital message is for all who have ears to hear.
Some would claim that message is unity.  For sure, we are divided by vitriol passed as politics, fear fed by the media, and coarseness embraced by culture.  Earlier in the week Brooks said, "The message they're pushing is unity, and that's right down my alley, man."  I guess that's why he asked everyone to sing along.  I appreciate the sentiment, but that was a symbolic unity at best.
The push for unity can be deceptive.  A call for political unity is a demand for the minority to capitulate. A call for religious unity ignores the exclusive truth claims of distinct religions.  Calling for unity was not Jesus' method.  In fact, he expected to be divisive (Luke 12:51).  British Theologian J. C. Ryle criticized false unity.  "People cannot believe that any earnest, clever, and charitable man can ever be in the wrong. Peace without truth is a false peace…unity without the gospel is a worthless unity. Let us never be ensnared by those who speak kindly of it."
Yet a unity in truth does exist and is attainable.  Jesus prayed, "The glory which You have given me I also have given to them, so that they may be one…I in them and you in me" (John 17:22-23).  Paul tells how that happens. "For you are all sons and daughters of God through faith in Christ Jesus" (Gal. 3:26).
Newton's life and lyrics reflect amazing grace as told in Jesus' story of the prodigal.  "This son of mine was dead and has come to life again; he was lost and has been found" (Luke 15:24).  By faith you are found and raised to life in Christ.  By faith you join the family of God and enjoy the hope of eternity.  The sweet sound of that graceful unity is the right message for today.
https://mountainchristian.net/wp-content/uploads/2021/02/graceful-unity.jpg
303
600
Wayne Fowler
https://mountainchristian.net/wp-content/uploads/2015/10/logo-white.png
Wayne Fowler
2021-01-31 12:00:58
2021-02-07 11:38:09
Graceful Unity