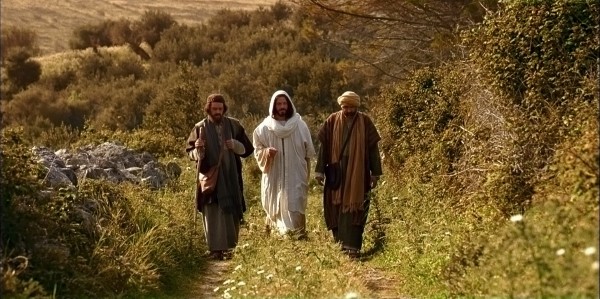 Two guys walking, talking about the day's stunning turn of events. A mysterious stranger falls in with them. He probes. They report. He then owns the conversation, holding them spellbound. They invite him to continue over supper. Suddenly they realize who He is.
It was the resurrected Jesus that made their hearts burn within them along the road to Emmaus. I wish I had heard His explanation from Scripture of why he had to "suffer these things and to enter into His glory" (Luke 24). Perhaps He explained that He had to be crushed as a guilt offering in order that "He will see His offspring, He will prolong His days, and the good pleasure of the Lord will prosper in His hand. As a result of the anguish of His soul, He will see it and be satisfied" (Isa. 53).
Jesus' first followers went to jail for proclaiming his Resurrection (Acts 4:2). Revisionist theologians today would explain it away as symbolic, but the first disciples experienced it as a startling, historical, bodily return from the dead. That is central to the gospel: "If Christ has not been raised, then our preaching is vain, your faith also is vain" (1 Cor. 15:14). "If you confess with your mouth Jesus as Lord, and believe in your heart that God raised Him from the dead, you will be saved" (Rom. 10:9).
What does Jesus' Resurrection mean for you? It authenticates His claim of deity, such as "I and the Father are one" (John 10:30). Only God could accomplish this one-off feat, which means He can also keep His promises to intercede for you at the right hand of the Father (Rom. 8:34) and to come again for you (John 14:3).
If you visit George Washington's tomb, you will see this inscription: "I am the resurrection and the life, saith the Lord. He that believeth in me, though he were dead, yet shall he live; and whosoever liveth and believeth in me shall never die" (John 11:25-26). When someone approached Jesus with a question about dead people, He made them refocus. "He is not the God of the dead but of the living" (Matt. 22:32). As John Newton lay on his deathbed someone nudged him. He said, "I am still in the land of the dying, but soon, I shall be in the land of the living." The Resurrection means that there is more to your life than the human body.
Presbyterian hymnist Alfred Ackley wrote, "I serve a living Savior, He's in the world today! I know that He is living, whatever men may say. He lives, He lives, salvation to impart! You ask me how I know He lives? He lives within my heart." This Sunday, join with believers in celebrating the greatest miracle in history, He Lives!
https://mountainchristian.net/wp-content/uploads/2018/03/He-Lives.jpg
299
600
Wayne Fowler
https://mountainchristian.net/wp-content/uploads/2015/10/logo-white.png
Wayne Fowler
2018-03-25 12:00:48
2018-03-22 10:28:43
He Lives!