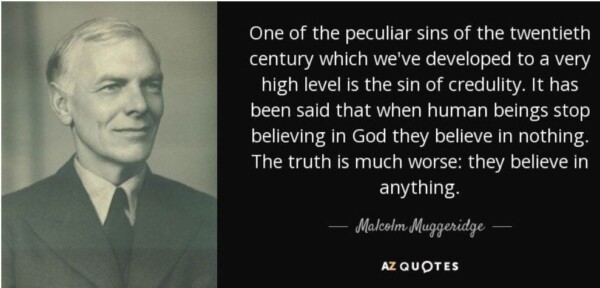 Have you noticed that certain human yearnings transcend our mortal existence?  Such a yearning saved the life of one of the last century's noted journalists.
Malcolm Muggeridge introduced the world to Mother Teresa and her work among the poor. Before becoming a renowned journalist, he was a soul adrift. He tried living among the religious people of India. After living in the former Soviet Union, he lost interest in communism. He was a maverick, rejecting the validity of most forms of authority. He simply felt like he didn't belong. "I have always felt myself, perhaps to an abnormal degree," he wrote, "a stranger in a strange land."
During WWII, the British army rejected Muggeridge's enlistment. But he did land an assignment with the British Intelligence Corps only to be sent to Mozambique, far from the action. There, one night, hopelessness caught up with him. "Alone in the universe, in eternity, with no glimmer of light in the prevailing blackness," he wrote. "Deprived of war's only solace, death, there was one death I could still procure. My own."
So, he went to a deserted beach along Africa's east coast, and swam out into the cold, inky darkness. In what might have been his last thought, his wife came to mind. He glanced back. In the distance he recognized the glimmering lights of a restaurant by the coast. He was transfixed by the sense the light was calling him home. "There followed an overwhelming joy such as I had never experienced before." He swam back.
It was the sudden yearning for home that saved his life. If there is one thing that can change suicidal ideation, it is the sense of belonging, meaning, and love. Muggeridge knew that such a joyful yearning must have originated beyond himself. It signaled the beginning of his quest to know its source.
A few years later by his own account, Muggeridge "rediscovered" Jesus and became a Christian. In retrospect, it is no surprise that the lost man who found his home in Christ Jesus would be the journalist who noticed a little nun making a home for Calcutta's most lost and desperate people.
You know that yearning for hearth and home. Tired from a long trip, rest. Nameless among fellow travelers, identity. Hungry for the familiar, recognition. A place to belong, a place of peace, a place of love, that's home. Jesus is calling you to believe and find your home in Him.
"If I go and prepare a place for you, I will come again and receive you to Myself, that where I am, there you may be also. And you know the way where I am going…I am the way, and the truth, and the life; no one comes to the Father but through Me" (John 14:3-6).
https://mountainchristian.net/wp-content/uploads/2023/05/730.jpg
288
600
Wayne Fowler
https://mountainchristian.net/wp-content/uploads/2015/10/logo-white.png
Wayne Fowler
2023-04-30 12:00:26
2023-05-04 11:27:04
Homeward Bound