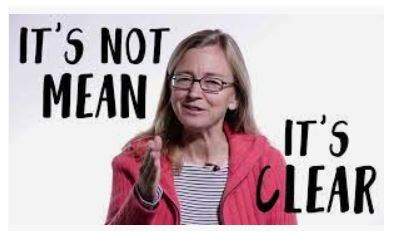 "Let us not love with word or with tongue, but in deed and truth. We will know by this that we are of the truth, and will assure our heart before Him" (1 Jn. 3:18-19).
Kim Scott was an executive with Google and other tech companies.  She tells about hiring "Bob," a likeable guy with a stellar resume.  Soon it was apparent he couldn't do the work. She and the rest of the team covered for Bob…for a while.  She finally fired him.  He reacted, "Why didn't you tell me? Why didn't anyone tell me? I thought you all cared."  It was uncaring to let him think all is well.
Love embraces truth, and truth matters.  For example, if it's true that God made you, then that defines you.  Truth matters because this is a sin-marred world that is good at deception.  It matters because you cannot be anything you identify yourself to be, and you'll ruin yourself trying.  Isn't it loving to be honest about that?
This might be inside baseball, but I've witnessed a lack of loving honesty among those who claim to represent the Christian worldview.  Is as though they realize the message of the cross really is scandalous and needs softening, modernizing.
The soft line is that if you try hard to do better, that's enough.  Hope your good outweighs the bad. God loves you anyway and knows you try. So, keep trying, Bob!  The modern take is that if you interpret the Bible the right way and account for the current cultural mood, you'll see God actually blesses what used to be "sin." Great job, Bob!
Here is some honest love.  The Bible says you are a broken, lost sinner in need of a Savior.  That's the scandal.  You are not "basically good" but when God re-creates you in Christ, you inherit His goodness.  Your high calling is to live out that new identity.  Transformed by the love of Christ, you don't excuse or bless sin; you abandon it.  You flourish as a human by believing what God says about you and by being reconciled to God through Christ on His terms.  Love doesn't participate in lies and omissions.  It speaks the truth even when painful.
In the foreword to Brennan Manning's The Ragamuffin Gospel," Rich Mullins states the gospel of Christ as "the good news that, although the holy and all-powerful God knows we are dust, he still stoops to breathe into us the breath of life – to bring to our wounds the balm of acceptance and love."  Living by that good news is the best antidote to a world untethered to reality.  To know and speak that truth is honest love.
"Speaking the truth in love, we are to grow up in all aspects into Him who is the head, even Christ" (Eph. 4:15).
https://mountainchristian.net/wp-content/uploads/2021/03/honest-love1.jpg
239
394
Wayne Fowler
https://mountainchristian.net/wp-content/uploads/2015/10/logo-white.png
Wayne Fowler
2021-03-28 12:00:40
2021-03-30 19:34:18
Honest Love