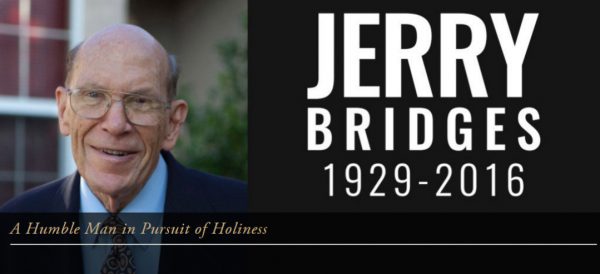 Introducing you to notable Christian people is one of my pastoral goals for this space. A life well-lived is inspiring.  Jerry Bridges passed away in 2016, completing his 86 years of trodding this sod.  He spent most of his adult life with the Navigators, a Christian ministry that focuses on making disciples.  He is perhaps best known for his first book, "The Pursuit of Holiness."
I personally identify with Bridges because he was an engineer and a minister. Born into humble circumstances in Tyler, Texas in 1929, he was raised in church.  He endured the hardships of weak eyesight and hearing, and the childhood loss of his mother.  Shortly after WWII, the Navy overlooked his mild disabilities and accepted him into an officer's education program at the University of Oklahoma.
During a visit home, he went with his brother Jack, a pastor, who visited a man to explain faith and salvation. That night while in his bed, Jerry realized no one had ever explained to him what it meant to be genuinely born again even though he had responded to several altar calls as a child.  He decided then that he wanted Jesus as his Savior, whatever it takes.  Immediately he had assurance that his faith was true.
Upon his graduation, he was commissioned as an ensign in the Navy. Soon after, he attended his first Navigators Bible study.  He remained involved with the Navigators after his discharge and while working as an engineer.  In 1955, he met founder Dawson Trotman who asked him to join the Navigators staff.  After speaking on the subject of holiness for years, Bridges released his popular book in 1978.
The reason for the book's success is that it clarifies questions about the meaning and practice of holiness. This line can be liberating if you have similar questions:  "We are through Christ made holy in our standing before God, and called to be holy in our daily lives."  By this he distinguishes between holiness due to Jesus' atonement for your sins, and your holy behavior that reflects who you are in Him.  By faith in Christ, you are "holy and blameless and beyond reproach" (Col. 1:22).  That wonderful gift and God's holiness form your motivation to "be holy yourselves also in all your behavior" (1 Pet. 1:15).  If you fail to grasp both aspects of holiness, you could err in two ways.  God's grace gift is not a license to sin, and your good behavior cannot make you holy before God.
Jerry Bridges' message is that of the Bible: You can be holy, and you can live holy.  He was humble and transparent about his own sometimes imperfect life of pursuing God.  May he rest in peace, having completed the chase.
https://mountainchristian.net/wp-content/uploads/2017/01/Jerry-Bridges.png
274
600
ALIGHT MEDIA
https://mountainchristian.net/wp-content/uploads/2015/10/logo-white.png
ALIGHT MEDIA
2017-01-08 12:00:57
2017-01-12 09:01:52
Jerry Bridges