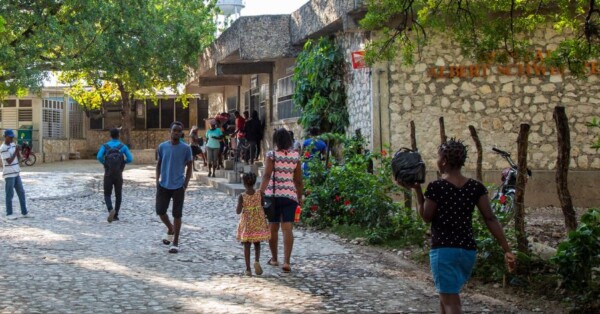 The whole incident started during the pre-dawn hours in a village in Haiti where I lived. I was shocked at how attractive the lie was.
My job included making the daylong journey to Port-au-Prince to purchase supplies. It was a cash economy so I had $400 in my backpack. I left in the wee hours of a moonless morning. The absence of electricity and the inky darkness masked whatever lurked about.
I drove the Land Rover to pick up a companion. I stopped beside his house and walked a few steps to his front door. Was that a noise behind me? I looked into the darkness. Nothing. As we climbed in for the grueling trip ahead of us, I checked the back seat. My back pack was gone. So were my plans for the day.
I learned later that a healthy young man had followed me, hoping to hitch a ride to the city. Seeing my back pack, he couldn't resist the crime of opportunity. He had never seen that much cash. The next day, he checked himself into the hospital. A few days later…he died. The Harvard-trained doctor who attended him told me he died from shock and fear. Seriously.
As I tried to get my head around that, Renoll from the village came to see me. I suspected Renoll of petty theft, but never accused him. He said, "Now everybody knows you have power. You know I never stole from you, right?" For a moment, I marveled at my newfound "power." The culture expected me to exploit it. Then it hit me. To embrace that lie would change my mission and method from love to power. I told Renoll that I forgave the thief, because God forgave me through Jesus' death on the cross.
The voodoo culture has something in common with our popular culture. They both pursue and abuse power as the supreme goal of human existence. In this cultural moment, history, identity, reality, and language all depend on who's in power. What a contrast with the Christian worldview of loving God and neighbor by believing and offering truth!
Love does not abuse power or endorse lies. It "rejoices with the truth" (1Cor. 13:6). Jesus promises you power, not for personal gain but for telling the truth (Acts 1:8). The Christian's calling does not align with a power culture's denial of the obvious and attempts at mass deception. Now is our time to speak the truth boldly and kindly, whatever the consequences. When you do, "It is not you who speak, but it is the Spirit of your Father who speaks in you" (Matt. 10:20).
I regret the death of the young man. If I had gone to his bedside and offered forgiveness, perhaps love might have set him free from the cultural lie that destroyed him.
https://mountainchristian.net/wp-content/uploads/2022/05/676.jpg
314
600
Wayne Fowler
https://mountainchristian.net/wp-content/uploads/2015/10/logo-white.png
Wayne Fowler
2022-04-17 12:00:01
2022-05-05 17:44:53
Love vs. Power