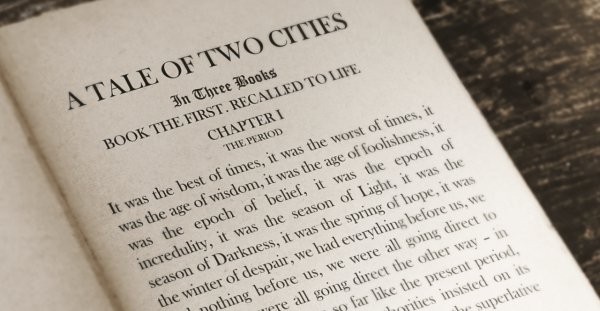 Let's talk politics.  Sorta.  The people in elected offices and we electors who put them there need wisdom in a huge way, and soon.
Here are some vexing topics of late.  #MeToo. Kneeling for the flag. Injustice. Racial unrest. Antifa.  Murders.  American cities looking like war zones.  COVID.  Economic shutdown.  Immigration. Impeachment. North Korean nuclear bombs.  China's ambition for world dominance and persecution of religious and ethnic minorities. Russian meddling. Hurricanes. Concurrent with all of this disturbance is the runup to the next U.S. election, with each side warning of cheating and apocalyptic outcomes.
"It was the best of times, it was the worst of times," as Dickens opens "A Tale of Two Cities," set during the French Revolution.  He adds, "It was the age of wisdom, it was the age of foolishness."  He could have been describing our current cultural upheaval, which some would like to be a kind of revolution.  If so, I pray it's more about the best of times and the age of wisdom than the alternatives.
We need leaders wise about the long term and unintended consequences of ideas.  John Stonestreet likes to say, "Ideas have consequences; bad ideas have victims." If we are wise, we will seek leaders with good ideas, and thereby love our neighbors and fellow citizens by not making victims of them with bad ideas.
Make no mistake.  Wisdom is from God.  Ideas that seem wise at the time can turn out to be otherwise.  Such ideas are "worldly" wisdom.  "Where is the wise man?  Where is the debater of this age?  Has not God made foolish the wisdom of the world?" (1 Cor. 1:20).  The world offers so much to deceive you into believing a lie.  That leads to confirmation bias, only considering evidence that furthers the lie.  "A fool does not delight in understanding, but only in revealing his own mind" (Prov. 18:2).
The Bible explains wisdom.  By contrast: "The fear of the Lord is the beginning of knowledge; fools despise wisdom and instruction" (Prov. 1:7).  By relationship: "The fear of the Lord is the beginning of wisdom, and the knowledge of the Holy One is understanding" (Prov. 9:10).  And by Name: "You are in Christ Jesus, who became to us wisdom from God, and righteousness and sanctification, and redemption" (1 Cor. 1:30).
I recently had the privilege of chatting with author Os Guiness about his recent book, Last Call for Liberty.  In it he writes, "America, America.  Do you know what time it is?  Do you understand the meaning of this moment?  Freedom is at stake."  I asked, "Is there a tipping point when America can no longer return to its founding ideal of liberty?" He hesitated then offered, "Yes. When America's leaders tolerate evil."
God help us. Seek His Wisdom. By name.
https://mountainchristian.net/wp-content/uploads/2020/09/naming-wisdom.png
311
600
Wayne Fowler
https://mountainchristian.net/wp-content/uploads/2015/10/logo-white.png
Wayne Fowler
2020-09-13 12:00:20
2020-09-16 10:13:32
Naming Wisdom