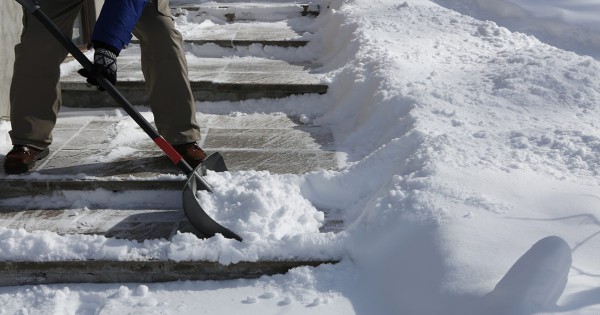 LA Times columnist Virginia Heffernan received some pushback.  She wrote about her neighbors shoveling snow from her driveway without her asking.  She labeled what they did "aggressive kindness."
She apparently despises her neighbors because of their politics.  She compared their act of neighborliness to Hezbollah favors and Nazi politeness. That over-the-top comparison is why pundits hit her.  She also stated the obvious: "Loving your neighbor is evidently much easier when your neighborhood is full of people just like you."
Her struggle is actually with loving her "enemy," a startling ethic stated by Jesus. "Love your enemies and pray for those who persecute you so that you may be sons of your Father who is in heaven."  He included that in his call to perfection, a very high bar indeed (Matt. 5:44ff).  How are we to do that?
It helps to realize God loved you before you were ever aware of him, and while you were a spiritual orphan.  "How great a love the Father has bestowed on us, that we would be called children of God" (1 Jn. 3:1).  God's love is empowering. "We love, because He first loved us" (1 Jn. 4:19).  C. S. Lewis explains that the Divine gift to man "enables him to love what is not naturally loveable; lepers, criminals, enemies, morons, the sulky, the superior and the sneering."
That empowering love not is not a feeling or speaking, it's a doing.  "Let us not love with word or with tongue, but in deed and truth" (1 Jn. 3:18) and that includes enemies.  Who is your enemy, anyway?  Maybe someone despises you for your politics or religion.  Maybe your intersectionality score is low.  Jesus didn't directly address that question, but he did answer this: "Who is my neighbor?"
Jesus told the story of a man who did what the religious people wouldn't.  This man of a despised race helped the victim of a highway robbery.  He did it at a sacrifice to himself.  This Good Samaritan story illustrates Jesus' charge to love your neighbor. He showed that your neighbor may be a stranger or an enemy who despises you.  Either way, to love is to be like God who loved you first.
Heffernan's neighbor may have heard Sen. Ben Sasse calling for an end to political feuding.  Sasse said, "You can't hate someone who shovels your driveway."  The corollary is that it's easier to love someone when you are shoveling their driveway.  It's sacrificial.  It's in their interest. And that's why it is God-like.
To love like God loves you is to sacrifice on behalf of others, putting their interests before yours.  Know when to be generous, and allow yourself to be inconvenienced.  Listen more than you speak. Do not let disagreements about religion or politics stop you from being kind.  And maybe you shovel your neighbor's driveway.
https://mountainchristian.net/wp-content/uploads/2021/02/shoveling-love.jpg
315
600
Wayne Fowler
https://mountainchristian.net/wp-content/uploads/2015/10/logo-white.png
Wayne Fowler
2021-02-28 12:00:45
2021-03-06 12:15:49
Shoveling Love