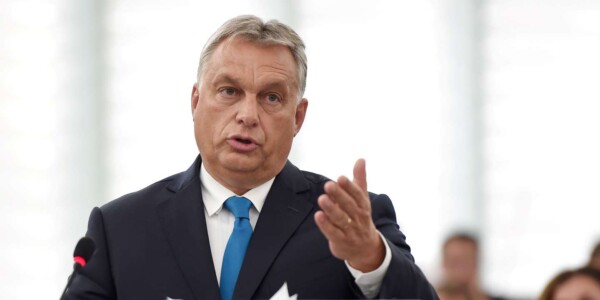 When a world leader invokes God, it stands out. It sometimes comes across as pandering. It always takes spunk because, after all, God is so controversial.
This time, it was Hungarian Prime Minister Viktor Orban. In a speech to a political gathering, he talked about a philosophy of governance. In a rather pointed remark he said, "If one does not believe that one day (he) will have to answer for his deeds before the Lord God…he (thinks he) can do anything that is in his power." A wise leader is a restrained leader, not unlike the American founders' idea that government answers to the people, and the people to God. Also not unlike Alexander Solzhenitsyn's conclusion about Russia's political chaos during his lifetime: "Men have forgotten God."
God is controversial if you don't want the world to be like this: "He has established His throne for judgment, and He will judge the world in righteousness" (Psa. 7-8). Yet we live in a moral world where what's right, just, and fair punctuate every day (especially if you're raising children!). Each one of us enters the world with a sense of morality along with the inability to keep even our own moral standards, much less God's. He has something to say about idolatry, adultery, honesty, theft, etc. It's easy to stumble at any of these and if you do, you're guilty of all (Jas. 2:10). In this age of affirmation and participation trophies, it's hard to hear that we are guilty on all counts.
You do understand that's why the truth about Jesus is "good news," right? The God who judges has made a way for you to be blameless, despite your shortcomings. "If God is for us, who is against us? Who will bring a charge against God's elect? God is the one who justifies; Christ Jesus is He who died, yes, rather who was raised, who is at the right hand of God, who also intercedes for us" (Rom. 8:31,33,34).
The thief on the cross believed Jesus who told him, "Today you will be with me in Paradise." Alistair Begg imagines a dialogue between that man and the angel at heaven's gate. "What are you doing here?" "I don't know." "Are you clear on the doctrine of justification by faith?" "Never heard of it." "Then on what basis are you here?" "All I know is the man on the middle cross said I could come." I imagine Jesus stepping forward and saying, "All charges are dropped.  This one is mine!" (Col. 2:13-14).
Orban is right. God judges. Some may hear that as an attempt to motivate by fear and guilt. But for those who trust Jesus, love and gratitude motivate us to live life God's way. We have reason to welcome the moment we meet that graceful Judge face to face.
https://mountainchristian.net/wp-content/uploads/2022/05/682.jpg
300
600
Wayne Fowler
https://mountainchristian.net/wp-content/uploads/2015/10/logo-white.png
Wayne Fowler
2022-05-29 12:00:11
2022-05-27 12:35:26
The Graceful Judge